Kittyhawk P40N-5
This aircraft (S/N 42-104977) from the USAAF 49th Fighter Group was piloted by Lt Joel Thorvaldson (who is still alive today) and was shot down by a Japanese Zero on 13 September 1943 in the Lae area of Papua New Guinea. The aircraft was retrieved from its wartime resting place on 10 December 2004 and it now resides on display at Warbird Adventures.
The restoration was a 4 year project and first flew in Dec 2008. The aircraft was restored with a passenger seat to enable visitors to enjoy the thrill of an adventure flight.
The Allison engine is factory new and was overhauled in Victoria.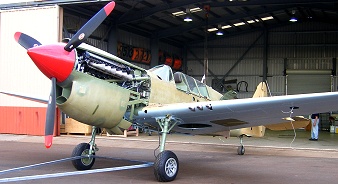 F4U-1D Corsair serial number 82640
A truly legendary fighter of the second world war and flown in large numbers from carriers by the US Navy and by the US Marines in the Pacific enjoying great success against the best of the Japanese fighters was often referred to the "Bent Wing Fighter" and was considered the greatest piston engined fighter ever built at that time.
Engined initally by a massive Pratt and Whitney R-2800 double row radial delivering over 2000 horse power. Our Corsair was built in 1944 by Chance Vought and delivered to the US Navy in Dec of that year. Posted to various units amongst which was the Carrier USS Intrepid which took part in the battle of Okinawa in 1945.
The restoration is planned to be a 4 year project and will start with restoration of the fuselage, then the wings before mating the two together.The R-2800 engine has been overhauled in the USA and will be delivered to our base soon.